Teara's Growing Geometry Post
1. The area of a rectangle is found by multiplying its length and width. The formula would look like this: l x w = A


w = 5m L=2m
finding the area...
area= 5xW
area =5x2
area= 10


2. The area of a triangle is found by multiplying its height by its base. To find the height of a triangle look for a right angle. Once you multiply the base and height you divide the total by 2. The formula looks like this:











Base=6
Height=12
finding the area..
Area=BxW÷2
Area=72÷2
Area=36



The relationship between the area of a triangle and the area of a rectangle is that every triangle is half of a rectangle.

-























4.Complex Figures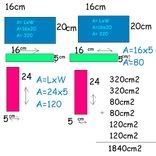 5. To find the area of a parallelogram you need to find the height and multiply it by the base. this is different than a rectangle. In a rectangle you have the height and base (due to the right angles in each corner). You multiply length times width. Here are three pictures that shows the relationship between the rectangle and parallelogram.


6. Surface Area is when you have to calculate the area of all the sides of a 3D Shape. Choose a rectangular solid (aka box of somekind) and show how to calculate its Surface Area. Are There any shortcuts??
7. This triangle has side lenghts of 4 cm, 5 cm, and 6 cm. Create a triangular prism that has a depth of 10 cm. What is its surface area.?